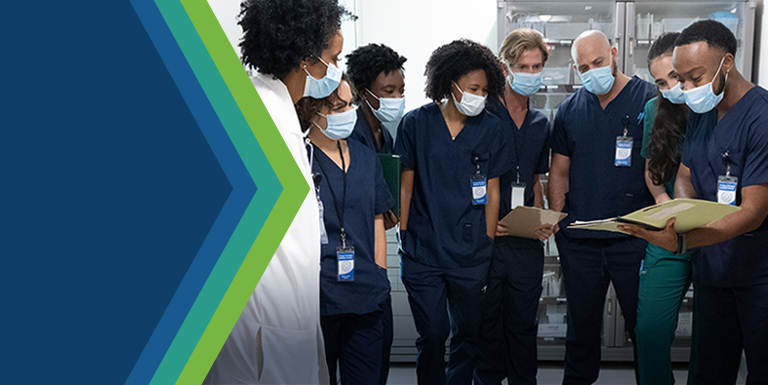 Click here to access the Faculty Resource Kit and other project resources.
The COVID-19 pandemic underscored gaps in infection control knowledge and practice in healthcare settings nationwide. The U.S. Centers for Disease Control and Prevention (CDC) launched Project Firstline to offer educational resources desgned to empower and enable healthcare workers to think critically about infection control. The CDC partnered with the American Hospital Assocation and the League for Innovation in the Community College to develop the Proejct Firstline Community College Collaborative to assist faculty in enhancing infection control content in their courses, with the goal of helping healthcare workers start their careers with the infection control knowledge and realities of practice they need to keep themselves and their patients safe. 
As part of the Project Firstline Community College Collaborative, in the summer and fall of 2021 teams of community college health professions faculty at 16 colleges used Project Firstline resources to enhance their infection control curricula and implement changes in their courses and programs. The process and tools they used were designed to assist faculty in evaluating current curriculum and provide guidance on integrating identified infection control objectives. The Project Firstline Faculty Resource Kit includes these materials as well as additional resources.
Project Firstline Community College Collaborative: Participating Colleges
Teams from the 16 colleges listed below participated in the curricula enhancement and implementation during summer and fall of 2021. Faculty teams represented emergency medical services, respiratory therapy, medical assistant, nurse assistant, practical nursing, and nursing programs.  
Albany Technical College 
Big Sandy Community and Technical College
Columbus State Community College
East Los Angeles College
Edmonds College
Fayetteville Technical Community College
Independence Community College
Ivy Tech Community College
Jackson College
Johnson County Community College
Madison Area Technical College
Monroe Community College
Onondaga Community College
San Jacinto College
Seattle Central College
Tacoma Community College
Contact
Cynthia Wilson, Vice President, Learning, and Chief Impact Officer
#WeAreFirstline