Creating Community: From Incarceration to Education
October
2022
Innovation Showcase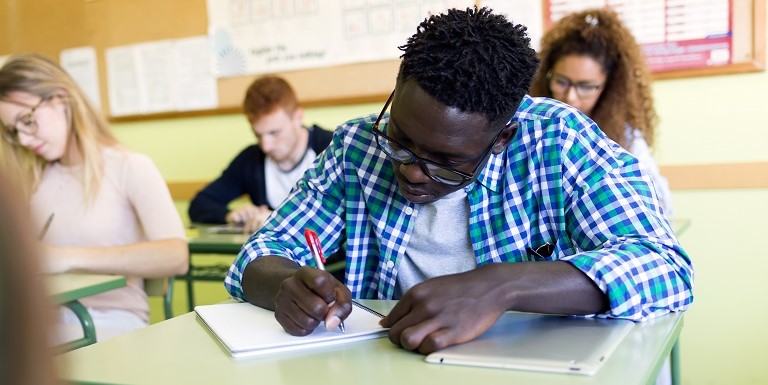 In 2016, a group of students sent a letter to Seattle Central College's administrators to name a part of their identity they felt was being overlooked as they embarked on a journey that would be pivotal in determining their futures. The students, who were previously incarcerated, had chosen education as the path to restart their lives upon leaving a Washington state prison. While community and technical colleges are open access institutions, they are still institutions with barriers that are, at times, only visible to some of the most minoritized and marginalized in our communities. In October 2016, Seattle Central College leadership responded to this letter by creating a student-focused Prison Education and Reentry Support committee led by previously incarcerated students and including partners from across the campus. 
In the first year, the committee held monthly on-campus listening sessions to learn about the lived experiences of students moving from incarceration to education. During the following academic year, the committee expanded to include community partners, alumni that had been impacted by incarceration, and representatives from the Washington State Department of Corrections (DOC). Over the course of two years, Seattle Central unpacked and worked to reduce institutional barriers. For example, when the college realized that male students who had been incarcerated at a young age had not registered with the selective service and were, therefore, ineligible to receive federal student aid, the Financial Aid office developed a process for assisting them with required documentation in advance so that their federal aid was not delayed. In addition, the committee identified the following essential services to support formerly incarcerated students: navigation guidance, engagement prior to release, technology assistance, basic needs resources, community connections, peer mentorship, and advocacy.
Navigation Guidance
In fall 2017, Seattle Central received a grant from the State Board of Community and Technical Colleges to hire a Re-Entry Navigator. This newly funded position was tasked with providing navigation support for people who had been impacted by the justice system, from outreach and onboarding to graduation. Students now had a direct point of contact who understood the complexities of their circumstances and could support them on their journey while connecting them to on- and off-campus resources. Additionally, as a result of committee feedback, formerly incarcerated students were hired as peer navigators to work alongside the Re-Entry Navigator and assist new students with the enrollment process.
The student support programs at Seattle Central College create a landing pad for many students who have been impacted by institutions where transactions and numbers have systematized their existence (e.g., reentry student, veteran, former foster youth). It is vital to our core work to move from transactional to interactional encounters, to create a physical space that provides a sense of belonging, and to interact with a purpose that centers on the whole student. For example, rather than creating intake forms and checklists, college staff engage the human first, helping each student to make the connections they need to be successful in college and in life.
Other Services
Additional services for this student population include the following:
Students have weekly access to food, toiletries, clothing, and school supplies at the food and resource pantry.
Students receive a $500 reentry scholarship per quarter for their first three quarters to assist with the transition from incarceration to college.
Students have access to the student lounge, a designated area for formerly incarcerated students to gather, study, and share space.
Peer mentors assist students with navigating the use of computers, smart phones, and online education modalities.
Current and prospective students on work release can get a day pass to come to the college to do homework, search for jobs, and make connections with community service agencies.
Students can participate in Freedom Fridays, monthly celebrations of milestones in students' freedom.
Inside Out Community
Since onboarding the Re-Entry Navigator, Seattle Central has been able to expand outreach to potential students who are currently incarcerated. Building an inside out community allows for the educational relationship to transcend prison gates and provide a smoother path toward an associate's degree upon release. The Navigator attends reentry fairs inside prisons and connects with DOC staff to assist prospective students preparing for release. As a result of these efforts, students can already have a FAFSA on file and enrollment paperwork completed upon release from prison. Assisting students to complete the transactional paperwork while incarcerated builds trust and facilitates outside community connections that guide the next step in their journey.
The college supports up to 75 students per quarter from inquiry to graduation. Support services have been expanded for up to 100 students enrolled in Seattle Central self-paced courses inside three Washington state prisons. In describing the success of the support work the Re-Entry Navigator reported, "Our office is a micro-community of peer navigators and wraparound support and encouragement. Our greatest strength is the community built into our office."
Going Forward
Seattle Central continues to build upon its community connections and relational support services as we navigate new challenges, particularly those resulting from the pandemic. Having the solid foundation of a designated space and a dedicated staff of relational bridge builders has inspired people to take the journey from incarceration to education. A currently incarcerated prospective student recently stated, "Seattle Central was there for me while I was in prison; I'm going to be at Central when I get released." According to the author, "You open the doors to a place unfamiliar but filled with possibilities. You fill out the paperwork, get a school ID, register for classes, and you are on your way to a college degree." This is Seattle Central College's goal as we continue to develop programming for students impacted by the criminal justice system.
Molly Mitchell is Director, Student Support Programs, at Seattle Central College in Seattle, Washington.
Opinions expressed in Innovation Showcase are those of the author(s) and do not necessarily reflect those of the League for Innovation in the Community College.