Dallas College's State-of-the-Art Construction Sciences Building Set to Fill In-Demand Skilled Trades Positions
August
2021
Innovation Showcase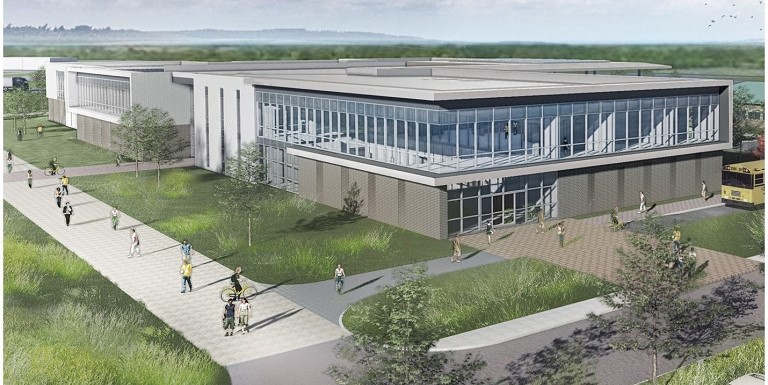 Ground broke on Dallas College's state-of-the-art Construction Sciences Building in 2019, and the need for the new training facility could not be more urgent. Before the design for the new building began, the National Center for Construction Education and Research (2019) had already predicted a shortage of one million craft professionals in the construction industry by 2023. In Dallas, the shortage is critical. From August 2018 to August 2019 alone, the Dallas-Plano-Irving area added 12,400 construction jobs and labor shortages have become a major contributor to rapidly rising new home costs in the area (Hetchcock, 2019). More recently, local construction executives have cited a lack of skilled trades workers as holding back the industry and delaying project completions (Ajamy, 2020; Spillyards, 2021). While Dallas-Fort Worth homebuilders set a new record of 15,063 single-family home starts in the first quarter of 2021, construction completion timeframes have increased partially due to subcontractor and trade labor shortages (Hetchcock, 2021). 
Fortunately, the pandemic did not stop Dallas College and its industry partners from building a facility designed around the needs of future students, but also the needs of the 1,300-plus North Texas construction companies into which Dallas College graduates feed. As COVID-19 swept through North Texas, construction crews implemented additional safety measures and continued their progress. No significant delays occurred because most of the materials used to build the Leadership in Energy Efficient Design (LEED) Silver structure were sourced locally, and the newly completed building's finishes, technology, equipment, and furniture are being installed in preparation for welcoming students later this year.
Construction Worker Shortage
A 2018 report (National Center for Construction Education and Research et al., 2018) indicated that an estimated 41 percent of current construction workers will retire by 2031, and the pandemic has increased that exodus. The February 2021 Status of Older Workers Report (Davis et al., 2021), based on Bureau of Labor Statistics data, estimated that 3 million older workers (aged 55-70) left the labor force due to the pandemic. Some were designated essential workers and retired earlier than planned due to health concerns. In addition, according to a recent industry survey (Associated General Contractors of America & Sage, 2021), 54 percent of construction companies are currently having difficulty finding qualified workers, and most don't expect the situation to improve. These shortages cause delays and raise costs for consumers.
A PeopleReady Skilled Trades analysis (2021) showed demand for skilled trade workers in the United States far outpacing the supply of qualified workers. The greatest shortages are for apprentices and helpers—ranked by growth in demand February to March 2021—in roofing (50 percent), carpentry (33 percent), plumbing (24 percent), construction (17 percent), and electrical (15 percent). Skilled labor will be even more in demand when President Joe Biden's anticipated infrastructure program gets underway; this effort could require 15 million workers over 10 years, most of them in blue-collar positions.
K-Shaped Recovery
While overall unemployment continues to fall in Texas, the relief has not been equitable. The U.S. Bureau of Labor Statistics describes a K-shaped recovery—the employment statistics of some groups are improving while others are not (Kochhar & Bennett, 2021). For instance, women, those with less education, young adults, and immigrants have been hit harder.
Automation and job obsolescence was also hastened by the pandemic. Pre-COVID, the Southern Regional Education Board estimated that 30 percent of current jobs could be automated by 2030; following the pandemic, the board moved its calculation up to 2025 (2020). Many with obsolete training or no degrees or marketable skills remain out of work. Preparing our workforce to meet labor trends is essential.
Construction Sciences Building
Dallas College and the region's booming construction industry will play key roles in reviving the local economy. The Construction Sciences Building is set to be a major resource for putting people back to work in high-demand construction and skilled trades jobs.
The facility's laboratories provide hands-on learning opportunities in sheet metal fabrication, carpentry, plumbing, electrical, HVAC, welding, and pipefitting. Additional shared labs provide instruction in soils, fire protection, sprinkler fitting, backflow prevention, medical gases, and safety. While Dallas College's Construction Management program is the oldest and largest accredited two-year program in the country, the latest technologies are incorporated into its new training space. The 97,500-square-foot building raises the bar for construction-related training even higher by providing:
30 purpose-built, interactive, high-tech classrooms
Laboratories adjacent to classrooms for teaching demonstrations and active learning
Covered exterior lab space for outdoor equipment use, mock-ups, and assembly installations in various conditions and temperatures
Storage space for safe containment of materials, tools, and lab gas
Intentionally exposed building systems—plumbing, wiring, mechanics—to use as additional teaching tools
A modular design that allows for additional classrooms and workshops
Dallas College programs will train apprentices and craft professionals in eight trades, including electrical technology, plumbing, and pipefitting, and as field engineers, supervisors, and construction managers. Currently, 16 certificate programs, nine continuing education programs, and four A.A.S. degrees (Construction Management, Construction Technology, Construction Technology—Surveying Technician, and Commercial Electrical Technology) are offered.
The Construction Sciences Building is scheduled to welcome its first students in fall 2021. While the facility will retrain workers who lost jobs during the pandemic, it will also educate young people eager to enter the workforce. Among the first students will be teenagers in Dallas Independent School District's Wilmer-Hutchins E-Tech Early College High School program. While the cost of attending four-year programs restricts access, these students will learn market-aligned skills and develop industry contacts for free. Plus, they will graduate high school with a certificate or associate degree along with their high school diploma. All of this is at no cost to those students, providing access to rewarding and stable careers.
Partners in the Industry
The Construction Sciences Building, a joint enterprise between Dallas College and Construction Education Foundation (CEF), is a shining example of industry and educational partnerships. Dallas College has worked with CEF for more than 20 years in providing opportunities for students to broaden their skills and advance their careers in the construction industry.
To date, monetary and in-kind donations for the new facility have topped $2.3 million. This has included construction partners' sponsorship of individual facilities within the building, such as $175,000 for a 3,800-square-foot HVAC lab and $60,000 for a 550-square-foot conference room, and donations of learning equipment and tools. But it's not just about the money. Only through innovative partnerships can the college provide training in cutting-edge technologies and skills needed by the industry. Through these partnerships, Dallas College will also help area companies to upgrade and retrain their current workforce in the latest technologies and safety procedures. Partnerships help Dallas College and CEF to design curriculum that matches market needs and includes the latest construction innovations. This will provide students the knowledge and skills they need to be successful in whatever trade they choose.
As the North Texas construction boom continues, Dallas College students will be ready to enter the workforce in the city that was recently named number one for construction workers (O' Shaughnessy, 2021) based on the number of new building permits issued, number of construction workers per permit, average pay, and cost of living. Filling the need for tomorrow's construction workforce and leadership, the Construction Sciences Building is positioned to become a major resource for the region.
References
Ajamy, D. (2020, February 10). Construction exec overseeing Dallas, Houston touches on tension between 'very busy market' and labor shortages. Dallas Business Journal. https://www.bizjournals.com/dallas/news/2020/02/10/skansa-usa-dennis-yung.html
Associated General Contractors of America & Sage. (2021). The pandemic's growing impacts on the construction industry: The 2021 construction hiring and business outlook.
https://www.agc.org/sites/default/files/2021%20Construction%20Hiring%20and%20Business
%20Outlook%20Report.pdf
Davis, O., Fisher, B., Ghilarducci, T., & Radpour, S. (2021). The stalled jobs recovery pushed 1.1 million older workers out of the labor force. Status of older workers report series. Schwartz Center for Economic Policy Analysis at The New School for Social Research. https://www.economicpolicyresearch.org/images/Retirement_Project/status_of_older_workers
_reports/OWAG_02102021.pdf
Hetchcock, B. (2019, October 10). Dallas area adds most construction jobs in U.S., but labor shortage persists. Dallas Business Journal. https://www.bizjournals.com/dallas/news/2019/10/09/construction-jobs-labor-shortage.html
Hetchcock, B. (2021, April 13). Dallas-Fort Worth homebuilding sails to all-time high, but construction times are longer. Dallas Business Journal. https://www.bizjournals.com/dallas/news/2021/04/13/dallas-homebuilding-starts-sales-closings.html
Kochhar, R., & Bennett, J. (2021). U.S. labor market inches back from the COVID-19 shock, but recovery is far from complete. Pew Research Center. https://www.pewresearch.org/fact-tank/2021/04/14/u-s-labor-market-inches-back-from-the-covid-19-shock-but-recovery-is-far-from-complete
National Center for Construction Education and Research. (2019, January 9), What will happen when the Baby Boomers retire? Build Your Future. https://discover.byf.org/what-will-happen-when-the-baby-boomers-retire/?utm_source=blog&utm_medium=NCCER
National Center for Construction Education and Research, Construction Users Roundtable, Ironworkers/IMPACT, & Construction Industry Institute. (2018). Restoring the dignity of work: Transforming the U.S. workforce development system into a world leader. https://www.nccer.org/docs/default-source/pdfs/cii-rt335-longver-final_web.pdf?sfvrsn=80e91f4f_14
O'Shaughnessy, T. (2021, April 25). The best cities for construction workers in 2021. Industrial Paint and Protection Magazine. https://www.ippmagazine.com/research/the-best-cities-for-construction-workers/#more-334
PeopleReady. (2021, March 18). U.S. skilled trades labor shortage heightens as in-demand jobs remain unfilled the longest. https://www.peopleready.com/us-skilled-trades-labor-shortage-heightens
Southern Regional Education Board. (2020, November). The pandemic's dual threat for vulnerable workers: Accelerated automation and post-pandemic impacts could displace millions. https://www.sreb.org/publication/pandemics-dual-threat-vulnerable-workers
Spillyards, A. (2021). Skilled labor shortage plagues North Texas construction companies. NBCDFW. https://www.nbcdfw.com/news/local/skilled-labor-shortage-plagues-north-texas-construction-companies/2614384/
Images: Artist renderings of Dallas College Construction Sciences Building
Cherie Yurco is a news writer for Dallas College in Dallas, Texas.
Opinions expressed in Innovation Showcase are those of the author(s) and do not necessarily reflect those of the League for Innovation in the Community College.