FlexFORWARD: The New Way for Adults to Earn a College Degree
December
2019
Innovation Showcase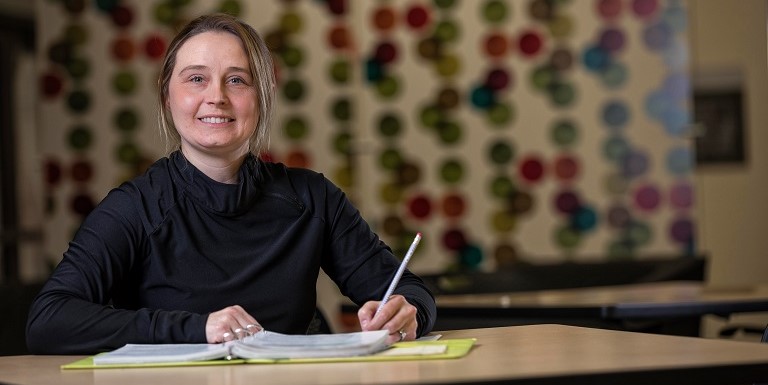 Like most community colleges across the U.S., Kirkwood Community College embodies the widely celebrated educational ideal that it's never too late to get a college education. This ideal is on display every day at 10 campuses spread out over the college's seven-county service area in eastern Iowa. In fact, the age range for enrolled, degree-seeking students at the college is from 16 to 74 years old, and that range grows even wider when dual enrollment numbers are considered.
When Kirkwood first opened its doors in 1966, the educational delivery format was the same for every student, no matter their age or situation. Everyone attended classes in person and received the same information the same way as other students. This format remained in place for decades, but as time progressed, educators came to realize that the educational needs of adult students were much different than those of their younger counterparts. The biggest difference was not so much what they needed to learn, but how they needed to learn it. Older students tended to have more responsibilities, such as full-time jobs, children, and the bills that come with being responsible for a household. These barriers posed significant roadblocks to adults who would potentially be prime candidates to go back to college and earn a degree.
In the 1990s, Kirkwood developed the Adult Accelerated program to better serve this key demographic in the community. Originally, the program was created as a partnership with local four-year institution Mount Mercy College, now Mount Mercy University. Designed to cater to full-time working adults, it initially appealed to those who were interested in earning a business degree; course offerings were eventually expanded to include additional fields.
In this format, students would enroll in five-week blocks, one course at a time, and attend class one night a week on campus. Curriculum was delivered in a hybrid format featuring face-to-face classes combined with online supplements when the Internet became a more widely accepted educational delivery tool. After finishing their degree at Kirkwood, students would move on to Mount Mercy, where they would enroll in the same five-week format.
As the years went by, people's daily lives and lifestyles changed. Day-to-day routines became more fast-paced for everyone and college coursework just didn't fit into the hectic schedules of adults thinking about going back to college. Adult Accelerated enrollment started to trend downward, and forward-thinking leadership at the college began to search for new ways to better serve the needs of the adult population.
The Flexible Solution
In 2016, a committee was formed to discuss better ways to help adult students reach their academic goals. One thing was certain: Returning to school definitely needed to be more convenient. This was evidenced by the rising popularity of online class offerings, which had been gaining steam over the previous few years. During a committee meeting, the competency-based education (CBE) model was raised as a possibility. After researching the delivery method and other institutions' efforts, Kirkwood leadership made the decision to pilot CBE.
The next step was for the committee to identify an academic program to initially implement CBE. In early 2018, the Business Administration Management Associate of Applied Science (A.A.S.) program was selected to roll out the new delivery format for adult students at Kirkwood. At the same time, a noncredit Project Management Continuing Education certificate would be offered.
Faculty members began to work with an instructional designer to develop the new CBE format. The benefit of working with an existing program was that the program and course competencies already existed, so those aspects went unchanged. However, students would now need to demonstrate competency in a particular subject before moving to the next module or course. With a good number of these students coming from the working world, and already having experience with many of the concepts to be covered, they could potentially demonstrate competency very quickly.
Meetings were set up with local industry leaders to make sure graduates from the program had the skillsets employers valued. The input from area business partners became a crucial part of building relevant activities into the program that would develop student aptitudes to meet employer need. To Kirkwood Dean of Business and Information Technologies Colette Atkins, that input was invaluable. "In the summer of 2018, we worked with various employers to prove our program outcomes and competencies," said Atkins. She continued,
Employers completed an evaluation process prior to meeting where they were asked to rate the difficulty and criticality of each outcome. When we met with them, we discussed their ratings in more detail. Courses were then developed following the course outcomes, with adjustments made based on what industry told us as well as what we already knew about adult learners.
Throughout the process of designing the program, the committee members knew that in order for it to be successful, they had to eliminate as many barriers as possible for the students who enrolled. One major obstacle for all students has always been cost. A primary benefit to CBE is that a student can potentially demonstrate competency more quickly and move through the program much faster than in a typical educational model. This reduces education-related expenses by default. But the committee wanted to further eliminate barriers by utilizing open educational resources (OER) to further minimize the cost barrier to students. Every course in the program was designed to take advantage of these free, yet valuable, tools.
Adult students can also have a multitude of disruptions to their education, such as jobs, children, and other responsibilities. These realities have the potential to add a great deal of stress and difficulty to the already challenging task of getting a college degree. In many cases, outside stressors become the reason that adult students fail to complete their education. Knowing this, the committee created a new position—program coach—to be assigned for each CBE student. To keep students on track and enrolled, each coach would meet with them regularly to discuss any issues students were having in their quest for a credential.
Once the CBE program was finalized, it was time to promote it to the public. After much deliberation, the name FlexFORWARD was chosen to invoke the idea that it would not only move careers and lives forward, but also provide a flexible option. The initial marketing campaign spanned multiple mediums, including digital display and search ads, social media and video, and billboards and bus stop advertising. A website landing page was also developed to provide more information to those interested and to gather contact information as well as leads that could result in program enrollment. Advertising began in July 2019 and students were admitted into the program starting that fall.
Program Results
The first FlexFORWARD cohort is underway, there have been no major setbacks thus far, and feedback from those involved has been encouraging. As Associate Dean of Distance Learning, who also doubles as a program coach for students, Dave Hunt has had a unique perspective in the early stages of FlexFORWARD. He is pleased by what he is hearing from all sides.
Students have told Hunt that they like the flexibility of the program, such as not being locked into traditional start dates. They also appreciate that they have more control over their academic journey, and the weekly check-in with their academic coach has helped keep them focused on the ultimate goal of getting a degree. Students have said they can better weave their schoolwork and personal lives together and can get more out of both.
From a faculty viewpoint, Hunt says that moving from a standard college format has been an adjustment for instructors when it comes to grading, as students are not all working on the same thing at the same time. However, the FlexFORWARD faculty state that it is rewarding to see students demonstrate competency of a concept, quickly in some cases, and then focus their efforts where they need a little more work.
To Hunt, the potential benefits of the new format were apparent almost immediately. This is true for students as well as the future employers who will be hiring program graduates. He said,
I hope [the program] helps us show employers the value of what we are teaching here at Kirkwood. Students will be able to show them what they can do as a result of FlexFORWARD, which we know will be exactly what employers are looking for based on our preliminary work with them. This is also great for the students because it ultimately means good jobs are waiting for them after they graduate. They leave Kirkwood in less time, with less debt and more employable skills, helping them enter the workforce faster—which gives a boost to the regional economy. It's a win for everyone.
The Future of the Program
In October 2019, there were 48 students enrolled in FlexFORWARD, which is right where the college wanted to be at that point. Initially, college leaders hoped to enroll 50 students by the end of the first semester. With multiple start times, the institution is right on track to meet that mark. As enrollment progresses, the goal is to have 100 enrolled students by the end of the first year and 200 by the end of the second year.
The future of CBE at Kirkwood will include additional offerings in coming years. Two more credit programs will be offered beginning in fall 2020: Construction Management and Welding. Additionally, there is potential for growth of noncredit CBE offerings.
To Hunt, the development of FlexFORWARD has been an interesting process full of exciting possibilities, but it hasn't been easy to look at education from a completely new perspective:
CBE breaks almost every traditional college model. But, as they say, you should never continue to do things the same way just because that's how they've always been done. Sometimes you need to take risks in order to find the best solution to an issue. I'm very glad we did, and I think the students are too.
Justin Hoehn is Associate Director, Marketing, at Kirkwood Community College in Cedar Rapids, Iowa.
Opinions expressed in Innovation Showcase are those of the author(s) and do not necessarily reflect those of the League for Innovation in the Community College.