Sierra College Manufacturing Student Starts Up His Future at Maker Space
March
2016
Innovation Showcase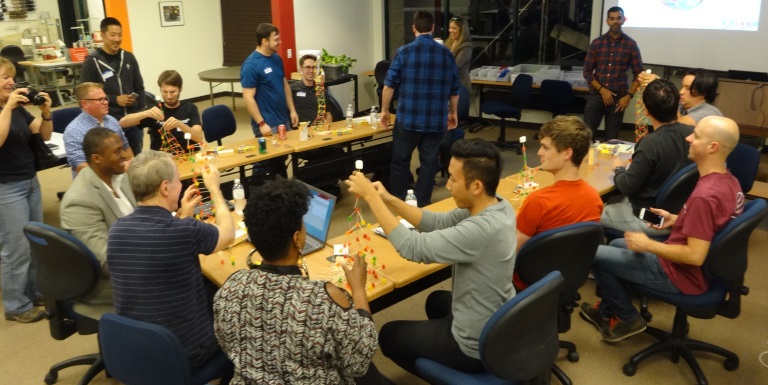 Tyler Hill, a Sierra College Electro Mechanical Engineering major from Lincoln, CA, got a job working for NCR Corporation in part because of his participation in the Hacker Lab Startup Hustle, a boot camp for entrepreneurs held in fall 2015. Students and Sacramento area entrepreneurs are encouraged to apply for the next Startup Hustle by March 17. Sierra College students can join Hacker Lab for $12 per month and participate in Startup Hustle for free.
When Sierra College and the Center for Applied Competitive Technologies joined Hacker Lab in establishing a maker and co-working space, it was the first such public private partnership in the country. According to Willy Duncan, Superintendent/President, Sierra College Joint Community College District, the decision to form the partnership with Sacramento-based Hacker Lab was made to enrich community college students' education and employability.
"Employers are seeking innovators who will develop better products to meet customers' needs and contribute to business growth," said Duncan.
At Hacker Lab, Sierra College students work alongside a diverse group of experts and artisans to test and hone skills learned in their college classes. As a result, students add practical experience and cutting edge skills in coding, virtual reality and 3D printing to their resumes.
Hill had joined Hacker Lab to access the CNC and laser cutting tools, and then applied to participate in Startup Hustle to work on the home automation system he developed with another student. "Putting this experience on my resume helped me stand out and get a job as an ATM Engineer," said Hill. "I enjoy the work and am even more confident in my plan to transfer to a California State University engineering program."
Hill explained that he developed new skills to create a prototype product at Hacker Lab. "I had no idea how to make a printed circuit board," said Hill. "But after three weeks of practice at Hacker Lab, I could make a perfect board from scratch."
Carol Pepper-Kittredge, Director, Center for Applied Competitive Technologies, Sierra College, helped plan the Hacker Lab Powered by Sierra College in Rocklin. "To attract students to Advanced Manufacturing careers and provide businesses access to technology and training, Sierra College equipped the maker space with electronics, 3D printers, laser cutter, and CNC router," said Pepper-Kittredge.
"Hacker Lab provides a unique environment where students can mix with people from various industries and this network accelerates their career path as well as entrepreneurial endeavors," said Pepper-Kittredge. "Startup Hustle delivers real-world experiences to students; it validates the skills they've developed on campus and prepares them for science, technology, engineering, and math (STEM) careers."
Startup Hustle teams attend weekly online and in-person training sessions led by successful founders of businesses. In addition, industry mentors coach the teams. "The mentors were genius," said Hill. "They were more than technical experts; they collaborated with us to think through sales and marketing."
Startup Hustle made Hill more aware of identifying a target market for his team's inventions. "One of the assignments was to pinpoint the exact type of customers we were going for to sell our product," said Hill.
Sierra College Mechatronics faculty member Steve Gillette also offered advice to Hill by sharing his own experience running a company. "I didn't really want to hear it," said Hill. "We were excited about the technology and unprepared for the difficulties of regulation, producing a product, and building a business. He was absolutely right on about the challenges of being an entrepreneur and I appreciated his help."
"The insight I gained from Startup Hustle was like getting ice cold water thrown at you," said Hill. "We realized that we were in way over our heads trying to run a company and needed to know more."
Hill found the Startup Hustle experience to be exceptionally useful. "When I started, I had no idea how to pursue a realistic, viable business," said Hill. "I would recommend Startup Hustle to other students who are up for the challenge and think they'd like to be entrepreneurs. It isn't for the faint of heart."
Although Hill has decided not to move forward with the home automation system, he believes that the experience of Startup Hustle was very valuable. "I gained so much that you can't learn in school," said Hill. "I would definitely recommend that students get involved with Hacker Lab so they can apply what they are learning. When I'm ready to start a company, I'll know what it takes."
In just one year, Sacramento-based Hacker Lab worked with Sierra College to find an off-campus location in Rocklin, CA, fill it with equipment, attract 140 members (50 percent students), and offer education events attended by over 1,000 people. Click here to read more stories about fall 2015 Startup Hustle participants.
Karen Fraser-Middleton is President of Marketing Action, Inc. and has consulted with Sierra College CACT since 2003.
Opinions expressed in Innovation Showcase are those of the author(s) and do not necessarily reflect those of the League for Innovation in the Community College.