Sinclair Community College and NextFlex: Raising Awareness of Careers in Manufacturing
December
2022
Innovation Showcase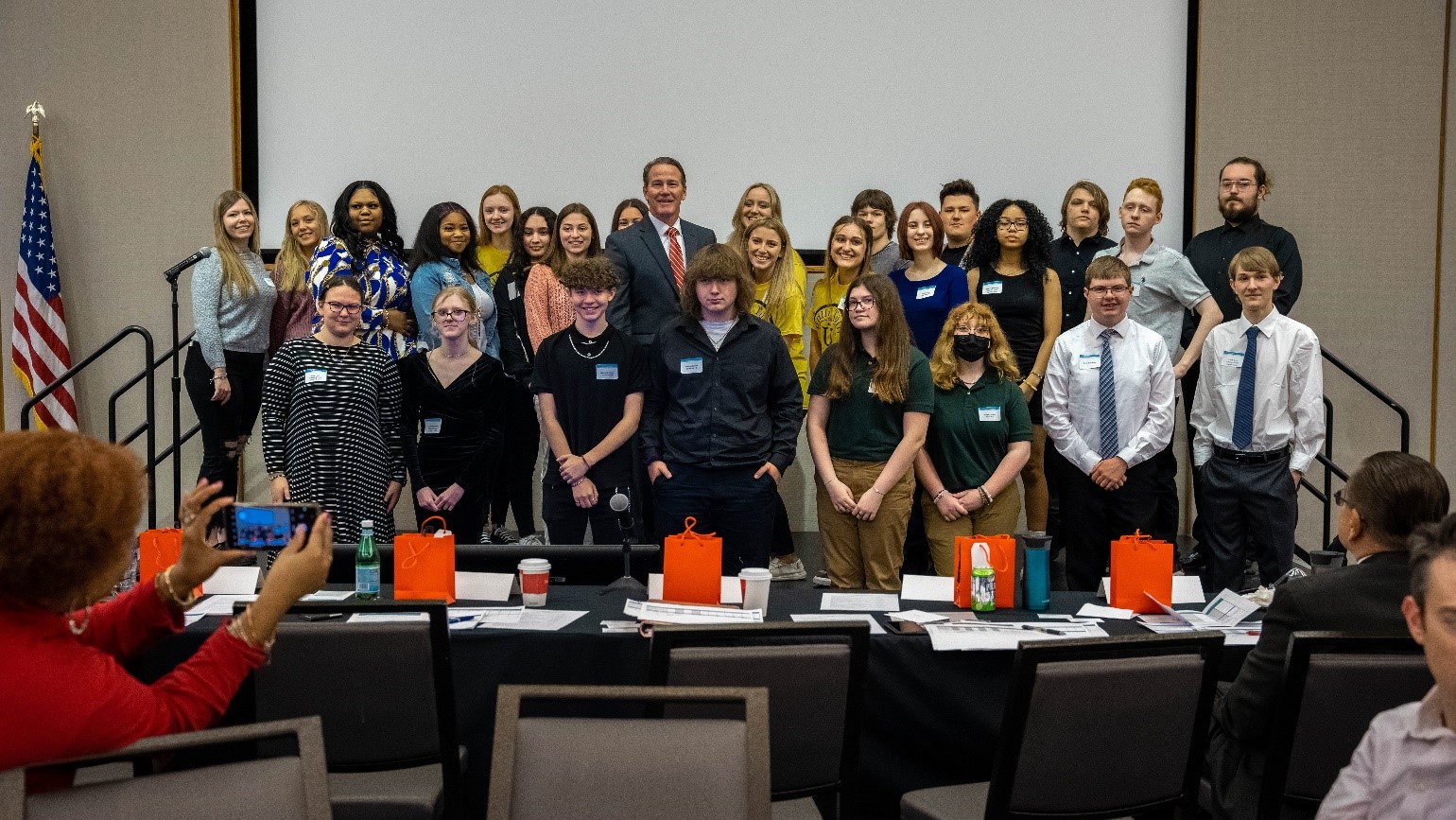 Ohio has the third largest manufacturing workforce in the United States, employing approximately 700,000 individuals (Wile, 2021). According to the Ohio Manufacturers' Association (2022), about 17.5 percent of Ohio's gross domestic product was based on manufacturing in 2020. Intel (2022) recently announced that it will build two new microchip factories in Ohio. According to Intel (2022),
As the largest single private-sector investment in Ohio history, the initial phase of the project is expected to create 3,000 Intel jobs and 7,000 construction jobs over the course of the build, and to support tens of thousands of additional local long-term jobs across a broad ecosystem of suppliers and partners. (para. 4)
Given the importance of manufacturing to Ohio's economy, developing strategies to recruit students to programs that support the state's manufacturing workforce is a top priority for Sinclair Community College. As part of that effort, the college began collaborating with area K-12 school districts to offer FlexFactor® in spring 2021. Along with several other community colleges in Ohio, Sinclair is implementing FlexFactor as part of its participation in the Ohio Manufacturing Talent Expansion for the Defense Industrial Supply Chain grant. FlexFactor, developed by NextFlex® (n.d.), "is an outreach, recruitment, and STEM education program designed to familiarize K-12 students with advanced manufacturing technology, entrepreneurship, and the education and career pathways that can lead to a STEM career" (para. 1). The FlexFactor curriculum leads students through problem identification, product ideation, and business modeling with the goal of informing students of career possibilities in STEM and advanced manufacturing (NextFlex, n.d.). Students pitch their concept "shark tank" style to business leaders and educators at the end of the program. Other key aspects of the program are a visit to a local community college and a tour of a local manufacturing facility so that students understand both the educational and career opportunities available to them within their community.
From February 2021 through May 2022, 215 students from seven high schools, divided into 67 teams, participated in FlexFactor programming with Sinclair Community College. Relationships have been developed with 49 industry partners who provide tours of manufacturing facilities, mentor students, and/or serve as judges at the final pitch. Although not a requirement of the grant, Sinclair hosted a regional competition in April 2022, to which all of the winning teams that had previously been involved in FlexFactor were invited. Of the 14 winning teams, 10 presented their final pitches at the regional competition to a group of leaders from higher education, industry, and local and state government. After Sinclair President Steve Johnson welcomed students, Ohio's Lieutenant Governor, Jon Husted, kicked off the event by highlighting the importance of manufacturing to the state's economy and the great paying jobs students may acquire by pursuing a career in STEM. Four young women from Miamisburg High School won the regional competition, and each of the students from the winning team received a $500 scholarship to continue their education at Sinclair Community College.
A survey was administered to participating students to assess their experience with FlexFactor within the Sinclair ecosystem from June 2021 through June 2022. The 88 students who completed the survey identified the following skills as their top areas of learning: public speaking, teamwork, professional communication, research, and critical thinking. Moreover, 70 percent of Sinclair's FlexFactor students indicated that they have a better understanding of the educational pathways that lead to careers in STEM, business/entrepreneurship, and/or advanced manufacturing. The survey data, summarized in Table 1, suggest that FlexFactor is changing students' perceptions of careers in STEM.    

Another notable accomplishment of Sinclair's FlexFactor program is that three high school students from the program obtained summer internships in 2022. These students were employed by UES Scientific Research and Development, Sentinel, and the Air Force Research Laboratory at Wright-Patterson Air Force Base. Sinclair is also partnering with University of Dayton Research Institute's Fastlane, the regional representative for Ohio's Manufacturing Extension Partnership, to provide employer funding for those industry partners willing to hire up to 10 high school students for 2023 summer internships. One of Sinclair's next steps is to explore whether participation in FlexFactor can be embedded in a pre-apprenticeship program as part of the State of Ohio's alternative pathway to graduation initiative (Ohio Department of Education, 2019).

Students from Miamisburg High School doing their
final pitch at Sinclair's 2022 regional competition
Grant funding is also supporting Sinclair's efforts to increase the number of students earning academic or industry-recognized credentials in programs that support manufacturing. To date, Sinclair students have obtained 34 industry-recognized credentials, including the Certified Solidworks Associate; NIMS Measurement, Materials, and Safety; and Fanuc Tool. Moreover, to better facilitate student learning, 16 faculty or staff received either the NIMS Measurement, Materials, & Safety or the Fanuc Handling Tool credential. Grant funds have also been used to modify courses to online or hybrid formats to provide more flexible options for students.
Sinclair is continuing to increase the number and type of high school courses utilizing FlexFactor. In fall 2022, more than 190 students are participating in Sinclair's FlexFactor program in six high schools. One high school uses FlexFactor as the basis for its Career Exploration course, with expands opportunities to investigate career options in STEM and advanced manufacturing. Other high schools utilizing the FlexFactor curriculum have paired it with the following courses: Sociology, Applied Chemistry, Engineering, Success Bound Career Exploration, Statistics, Robotics, and Digital Design. Because the curriculum is designed to be course-agnostic, the FlexFactor program can be embedded in a variety of academic disciplines. Sinclair is also exploring whether FlexFactor can be offered for college credit as part of a dual enrollment program. This would allow high school students to earn college credit while honing their skills in public speaking and critical thinking, and expose them to careers in STEM, manufacturing, and entrepreneurship.  
FlexFactor has proven remarkably successful in raising students' awareness of careers in STEM and advanced manufacturing, and inspiring them to consider options they may not have previously known were available to them. As a result, Sinclair plans to continue its collaboration with NextFlex and assess whether FlexFactor is an effective way to recruit students to fill the manufacturing pipeline with skilled employees.
References
Intel. (2022, January 21). Intel announces next US site with landmark investment in Ohio. Intel Newsroom. https://www.intel.com/content/www/us/en/newsroom/news/intel-announces-next-us-site-landmark-investment-ohio.html#gs.g6vwm6
NextFlex. (n.d.). FlexFactor. https://www.nextflex.us/learning-portfolio/flexfactor
Ohio Department of Education. (2019, August). Ohio's high school graduation requirements: Classes of 2023 and beyond. https://education.ohio.gov/getattachment/Topics/Ohio-s-Graduation-Requirements/Sections/Classes-of-2023-and-Beyond-Graduation-Requirements/GradReq2023.pdf.aspx?lang=en-US  
Ohio Manufacturers' Association. (2022). 2022 Ohio manufacturing counts: Facts about the economic impact of Ohio manufacturing. https://www.ohiomfg.com/wp-content/uploads/OMA_ManufacturingCounts2022_DIGITAL-1-1.pdf   
Wile, O. (2021, October 3). Ohio manufacturing company expands despite worker shortage. Spectrum News 1. https://spectrumnews1.com/oh/columbus/news/2021/10/01/manufacturing-industry-worker-shortage-
Lead image: Group photo of all competitors and Lt. Governor Jon Husted at Sinclair's 2022 Regional Competition
Julie Huckaba is Manager, FlexFactor Project, and Anthony M. Ponder is Provost at Sinclair Community College in Dayton, Ohio.
Opinions expressed in Innovation Showcase are those of the author(s) and do not necessarily reflect those of the League for Innovation in the Community College.