Facilitating Intrapreneurship Through Inclusive Leadership Practices
January
2023
Leadership Abstracts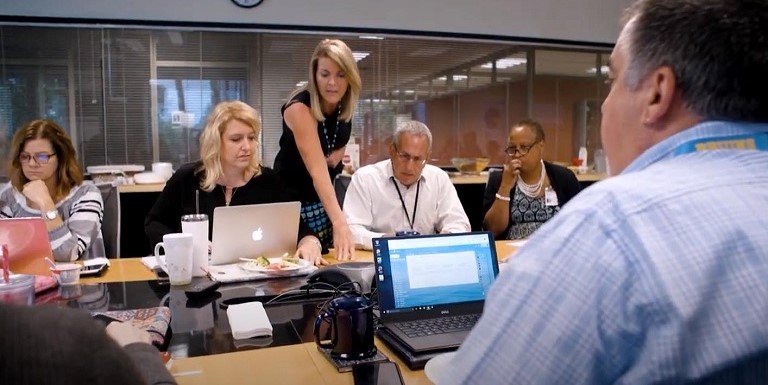 The volatile, uncertain, complex, and ambiguous (VUCA) reality of American higher education calls for agility and change (Korsakova, 2020; LeBlanc, 2018). Leaders have to consider the global political and economic context caused by the information age and then accelerated by the COVID-19 pandemic (Bliss, 2022; Korsakova, 2020). Macrotrends underway in U.S. community colleges include enrollment decline; demographic cliff; increased digital access to education; remote, hybrid, and automated workplaces; the Great Resignation and retirement of a generation of leaders; the student loan crisis; public demand for greater return on educational investment; and employer emphasis on skills to close workforce gaps. These simultaneously occurring trends, among others, are destabilizing the long-standing institution of American higher education. Leaders must navigate unpredictable and complex landscapes with an entrepreneurial orientation and growth mindset.
Community college leaders understand the value of an entrepreneurial mindset in this VUCA landscape and know that leveraging the unique and diverse talents of the human capital within their organizations will lead to greater innovation and outcomes (Gawke et al., 2018). To foster entrepreneurial behaviors within the organization, referred to as intrapreneurship, leaders should practice inclusive approaches that effectively engage the human capital of the organization in co-creating a contextually relevant and targeted evolution of the college. This article explores the relationship between inclusive leadership characteristics and intrapreneurship behaviors and presents practical examples applied in a community college setting.
Intrapreneurship
Fang et al. (2019) remind us that "Cultivating innovative behavior is one of the most important leadership functions of today's organizations" (p. 3). Individual intrapreneurship is defined as intraorganizational entrepreneurship, encouraging employees to develop new commercially viable ideas (Ramati-Navon et. al, 2022; PwC, 2019). Numerous international studies have demonstrated how a focus on intrapreneurship can help a business achieve better outcomes (Gawke et al., 2018). Employee intrapreneurship contributes to two key organizational outcomes: "new venture creation (i.e., the creation of new business for the organization) and strategic renewal (i.e., the renewal or alteration of processes to enhance an organization's ability to react to internal and market developments)" (Gawke et al., 2018, p. 509). Innovative employee behaviors and intrapreneurship activities, such as initiating new projects, combining existing resources to develop novel ideas, and exchanging resources and information with both internal and external stakeholders (Gawke et al., 2018), can lead to individual-level, team-level, and organization-level benefits (Fang et al., 2019; Qi et al., 2019).
Individual Benefits
The modern workplace of the information era requires individuals to adapt to new concepts, technologies, and social norms (Fang et al., 2019). New-generation employees may come to the workplace with different values and expectations than those currently in place within the college culture, practices, policies, and procedures. These new employees tend to focus on equality, disregard authority (Fang et al., 2019), and pursue a balance between work and life; this combination can lead to lower job satisfaction and organizational commitment and higher turnover. However, research demonstrates that employees are more willing to stay with an organization if they feel they are contributing to its long-term success (Qi et al., 2019). When employees feel supported by their leaders, they feel valued and are more likely to autonomously engage in innovative behaviors. For individual employees, leadership style may be the greatest factor that influences their willingness to engage in creative and innovative behaviors (Qi et al., 2019).
Team Benefits
A collaborative team can provide the resources and support structure for an individual to evolve an idea and realize tangible outcomes. The speed of decision-making may be slowed by a team, yet teams can organically scale innovations and ensure that they are deeply contextualized with key stakeholder groups (Ambos & Tatarinov, 2021).
Organizational Benefits
Fostering intrapreneurial activity enhances an organization's capacity to expedite decision-making, take risks, and seize opportunities (Gawke et al., 2018). Organizations that promote intrapreneurial activity can develop internal competencies, create new teams, and even transform their value propositions (Ambos & Tatarinov, 2021). Providing resources, recognition, and support within the organization will promote intrapreneurial behaviors among employees.
Inclusive Leadership
There is no academic consensus on the theoretical underpinnings nor a singular definition of inclusive leadership (Qi et al., 2019). However, researchers agree that key characteristics and traits distinguish inclusive leadership from other leadership styles (see Table 1). Inclusive leadership style is "people-oriented, insists on equal treatment toward subordinates' attitudes, believes in the role of organizational cohesion, and takes its own efforts as an example" (Fang et al., 2019, p. 2). The most significant differences between inclusive leadership and other leadership styles (e.g., empowering, transformational, authentic, and servant) are that the former emphasizes subordinates' sense of belonging as well as their diverse contributions (Zhu et al. 2020). Inclusive leaders are self-aware, acknowledge their own biases, lead through learning, and actively seek input from others when making decisions. Fang et al. (2019) produced empirical evidence that inclusive leadership is well-aligned to influence and engage new-generation employees.
Characteristics
Inclusive leaders "exhibit openness, accessibility, and availability in their interactions with followers" (Carmeli et al., 2010, p. 4). Inclusion is based on trust, accepting, belonging, uniqueness, and authenticity between the leader and followers (Fang et al., 2019; Qi et al., 2019). Inclusive leaders are accepting of all employees and encourage them to be involved in organizational activities. The words and deeds of an inclusive leader "indicate an invitation and appreciation for others' contributions" (Nembhard & Edmondson, 2006, p. 941).
Table 1. Comparison of Key Characteristics of Inclusive Leadership

Benefits
International researchers have produced empirical evidence that inclusive leadership can achieve the following benefits relating to intrapreneurial activities. Inclusive leadership:
Fosters psychological safety, which promotes creativity and innovative employee behaviors (Mansoor, 2021; Zhu et al., 2020);
Fosters "group members' perceptions of both belonging and value for uniqueness as a group member" (Zhu et al., 2020, p. 4);
Encourages subordinates to propose new ideas (Zhu et al., 2020);
Develops the perception of organizational support, which promotes innovative employee behaviors (Mansoor, 2021);
Increases employee creativity and self-efficacy (Fang et al. 2019; Zhu et al., 2020);
Fosters diverse teams, which promotes innovation (Zhu et al., 2020);
Positively influences intrapreneurship through openness to experience (Ramati-Navon et al., 2022);
Positively influences new-generation employees (Fang et al., 2019);
Influences diverse employees to engage in the innovation process (Qi et al., 2019); and
Inspires a sense of responsibility (Qi et al., 2019).
Practical Applications at a Community College
At Rio Salado College, the traditional college structures of Academic Affairs, Student Affairs, and Administrative Services are complemented by a cross-functional Strategy and Advancement division. A core purpose of this structure is to support intrapreneurial activity through inclusive leadership that results in improved business processes, innovations, growth, business development, and student outcomes. Examples of inclusive leadership and intrapreneurial activities in this cross-functional unit are outlined in Table 2.
Table 2: Examples of Inclusive Leadership and Intrapreneurship at a Community College

Recommendations for Community College Leaders
Communicate clear and optimistic goals that will attract positive attention to your community college campus. Leaders should communicate positive expectations and demonstrate growth mindset, accepting and recognizing what each unique individual contributes to the organization. Leaders must be active listeners and allow employees to propose new ways of working, collaborating, and problem solving. It is critical for leaders to pay close attention to feedback loops from the college's external and internal environment, including employee participation as an indicator (Korsakova, 2020). Leaders should communicate openly and authentically and give constructive feedback. Using these communication strategies will allow the leader and the followers—the internal and external stakeholders—to co-create a path to success using design-thinking strategies and effective collaboration.
Create a development space, or incubator, oriented toward people and a system of collaboration. Employees need time and space to experiment. They need resources and autonomy to make decisions quickly. Employees require psychological safety to challenge formal authority and seek and gain feedback from leaders, even if the innovation outcome is not achieved. Building a culture of cooperative innovation is more critical than the outcome (Korsakova, 2020; PwC, 2019).
Community college leaders should ensure that structures and processes are in place to support an idea through to scaling and outcomes. Colleges can provide project and change management resources for individuals. Through effective change management, empathy can be demonstrated, and strategies can be adapted during implementation, leading to trust. While engaging in formal structures, employees build the skills and capacities needed to initiate new projects and secure resources to support their ideas. This positively reinforces employee innovative behaviors.
Focus on the innovation process and innovative thinking rather than the innovation outcome. Leaders at all levels should invite diverse perspectives and stakeholders to build a shared mental model of what success looks like by applying systems thinking. Consider who needs to be at the table to share unique and frontline perspectives. Clarify each individual's unique role and communicate their added value to the team. Demonstrating humility, respect, and fairness will promote positive outcomes (Fang et al., 2019). Welcoming input from others and acknowledging your own biases will improve decisions and increase commitment.
Inclusive Leadership Fosters Innovation and Intrapreneurship
Inclusive leadership is a proven approach to stimulate innovative and intrapreneurial employee behaviors benefitting the individual, the team, and the organization. Innovation in community colleges is required for long-term sustainability, and inclusive leaders can co-create the community college of the future in a VUCA context. Rio Salado College has structured itself as an organization to promote these best practices.
References
Ambos, T. C., & Tatarinov, K. (2021, May 24). Building responsible innovation in international organization through intrapreneurship. Journal of Management Studies, 59(1), 92-125. https://doi.org/10.1111/joms.12738
Bliss, K. (2022, September 22). What's next for community colleges? Leadership after COVID-19. Innovation Showcase, 17(9). League for Innovation in the Community College. https://www.league.org/innovation-showcase/what%E2%80%99s-next-community-colleges-leadership-after-covid-19
Bourke, J., & Titus, A. (2019, March 29). Why inclusive leaders are good for organizations, and how to become one. Harvard Business Review. https://hbr.org/2019/03/why-inclusive-leaders-are-good-for-organizations-and-how-to-become-one
Carmeli, A., Reiter-Palmon, R., & Ziv, E. (2010). Inclusive leadership and employee involvement in creative tasks in the workplace: The mediating role of psychological safety. Creativity Research Journal, 22(3), 250-260.
College Innovation Network (2022, February). Building belonging with InScribe at Rio Salado College: CIN evaluation and impact report. https://wgulabs.org/wp-content/uploads/2022/02/CIN-Evaluation-and-Impact-Report-Rio-X-InScribe-Feb-2022.pdf
Culture Plus Consulting. (2018). Inclusive leadership infographics. https://cultureplusconsulting.com/resources/inclusive-leadership-infographics
Dillon, B., & Bourke, J. (2016, April 14). The six signature traits of inclusive leadership: Thriving in a diverse new world. Deloitte University Press. https://www2.deloitte.com/content/dam/Deloitte/au/Documents/human-capital/deloitte-au-hc-six-signature-traits-inclusive-leadership-020516.pdf
Fang, Y. C., Chen, J. Y., Wang, M. J., & Chen, C. Y. (2019, August 6). The impact of inclusive leadership on employees' innovative behaviors: The mediation of psychological capital. Frontiers in Psychology, 10(1803), 1-11
Gawke, J. C., Gorgievski, M. J., & Bakker, A. B. (2018). Personal costs and benefits of employee intrapreneurship: Disentangling the employee intrapreneurship, well-being, and job performance relationship. Journal of Occupational Health Psychology, 23(4), 508-519.
Korsakova, T. V. (2020). Higher education in VUCA-world: New metaphor of university. European Journal of Interdisciplinary Studies, 6(1), 93-100. https://doi.org/10.26417/ejis-2019.v5i2-282
LeBlanc, P. J. (2018, October 16). Higher education in a VUCA world. Change: The Magazine of Higher Learning. 50(3-4), 23-26.
Mansoor, A. (2021, February 9). Does inclusive leadership incite innovative work behavior? Human Systems Management, 40(1), 93-102.
Nembhard, I. M., & Edmondson, A. C. (2006). Making it safe: The effects of leader inclusiveness and professional status on psychological safety and improvement efforts in health care teams. Journal of Organizational Behavior, 27(7), 941-966.
PwC. (2019, November 8). People experience series: Facilitating intrapreneurship in 3 steps. The Blog. https://blog.pwc.lu/people-experience-series-facilitating-intrapreneurship-3-steps
Ramati-Navon, L., Carmeli, A., & Menahem, G. (2022, July 18). Inclusiveness and intrapreneurial behaviours in organisations. The Journal of Entrepreneurship, 31(2).
Qi, L., Liu, B., Wei, X., & Hu, Y. (2019, February 28). Impact of inclusive leadership on employee innovative behavior: Perceived organizational support as a mediator. PLOS ONE, 14(2). https://doi.org/10.1371/journal.pone.0212091
Zhu, J., Xu, S., & Zhang, B. (2020, January 22). The paradoxical effect of inclusive leadership on subordinates' creativity. Frontiers in Psychology, 10(2960). https://doi.org/10.3389/fpsyg.2019.02960
Janelle Elias is Vice President, Strategy and Advancement, at Rio Salado College in Tempe, Arizona.
Opinions expressed in Leadership Abstracts are those of the author(s) and do not necessarily reflect those of the League for Innovation in the Community College.