Enriching the Community College Experience Through an Undergraduate Research Journal
January
2023
Learning Abstracts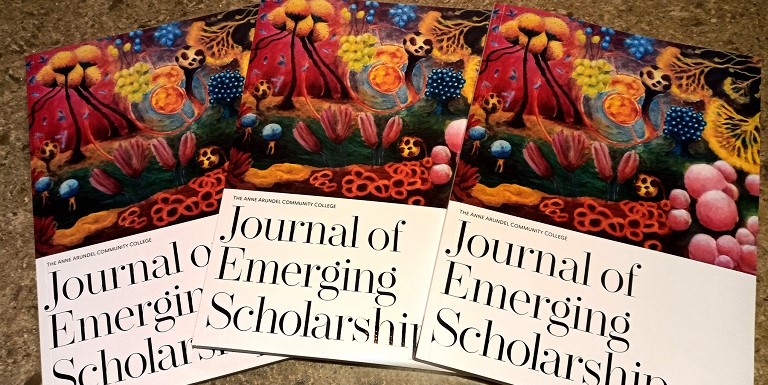 As Anne Arundel Community College (AACC) works to define itself in a post-pandemic world, it is imperative to look to innovative and engaging practices to ensure student success. One excellent avenue is for students to engage in primary undergraduate research in order to develop the skills necessary for their future success. Undergraduate research is recognized as a high-impact learning practice by the American Association of Colleges and Universities (Kuh, 2008). Participation in undergraduate research has shown to increase student persistence (Nagda et al., 1998) and entrance into graduate school (Hathaway et al., 2002; Kremer & Bringle, 1990). Undergraduate student researchers demonstrate an increased ability to gather and analyze data and to speak and write effectively (Bauer & Bennett, 2003).
Undergraduate research allows students to get first-hand experience in their field of study, and to learn from more experienced researchers. This type of experience can be invaluable in helping students to develop important skills such as problem-solving, critical thinking, and communication. It also allows students to network with other researchers and professionals in their field. This type of immersion helps students learn more about the subject matter than they would ever be able to learn from reading about it or watching lectures alone. Ultimately, it can help students develop an interest in the topic that they are studying, which may encourage them to pursue a career in that area.
Benefits of an undergraduate research journal abound, which is why AACC established its Journal of Emerging Scholarship, whose first edition was published in April 2022. The goal of AACC's journal is to provide for peer-reviewed publication of research conducted by undergraduate students who are each assigned a faculty mentor to help guide their work. There is also opportunity for faculty to serve as a co-author with a student, depending on the faculty member's level of involvement with the research. Journals provide an opportunity for both students and faculty to share students' work with others and for students to get feedback beyond a class grade. They also provide an outlet for creative expression and intellectual growth as well as opportunities for collaboration with classmates and faculty members. Finally, journals can be used as teaching tools: By providing examples of good scholarship, they can help instructors foster students' critical thinking and analytical skills.
Resource Issues at Community Colleges
AACC, like many community colleges, lacks the resources and facilities necessary to support laboratories and the cost of primary research. As an alternative, developing an undergraduate research journal may be one of the most effective ways to encourage student engagement in scholarly activity and help them build foundational skills that will serve them well into their professional lives.
Despite the many benefits, developing, designing, and publishing an undergraduate research journal at a community college presents some challenges. First, there are often not enough resources available to cover the costs associated with supporting a journal, such as printing or website hosting fees. Second, it can be difficult to find editors who are both qualified and willing to take on additional responsibilities, such as reviewing manuscripts. Third, sustaining interest among undergraduates in participating in scholarly activity can be hard work; sometimes it takes more than offering incentives like publication privileges to motivate students to contribute material. Despite these challenges, establishing an undergraduate research journal at a community college could have far-reaching effects not only on the individual scholars involved, but also on the entire institution, including interdisciplinary interaction and network building across divisions.
Recommendations for Community College Journal Development
The following provides a summary of recommendations for establishing a research journal based upon the experience and lessons learned at AACC:
Work closely with appropriate administrators throughout the planning process and update progress regularly to help ensure support for funding the journal.
Establish an editorial board to oversee the development of the journal. Include representatives from various stakeholder groups, such as faculty, administrators, and librarians.
Define the purpose and scope of the journal. For this task, AACC's editorial board kept at the forefront consideration of the mission of the college and the needs of students and faculty. The journal could have focused solely on topics such as teaching methods or student services offered by the college. However, a purposeful decision was made to include a broad definition of undergraduate research to encourage participation from all disciplines.
Develop a business plan for the journal that includes budget, staffing, and marketing needs and decide on a method of publication (i.e., digital or print). At AACC, the inaugural edition was a hard-copy publication, done in-house to help keep printing costs down. AACC published 500 color copies of the journal for under $4,000. Future editions can easily transition to a digital format.
Recruit reviewers who are knowledgeable about undergraduate research. At AACC, faculty reviewers are provided a stipend to manage submissions and provide guidance to authors throughout the submission process. Having well-trained reviewers helps safeguard the quality of the manuscripts. It also allows faculty reviewers to connect this work with their professional development and service requirements.
Connect undergraduate research to student clubs and the honors program to raise awareness among students of this exciting opportunity. At AACC, funds were used to host a release party and frame student art that was used on the journal's cover. This student art is now part of a growing collection displayed in the college's library.
Offer incentives for students who submit their work to the journal, such as publication credit for a peer-reviewed manuscript on their resume or for inclusion on a student's application to a four-year college or graduate program.
Promote the journal through low- or no-cost social media platforms, such as Facebook, Twitter, or Instagram. Create a website for the journal that includes submission guidelines and contact information for reviewers.
Promoting the Journal to Encourage Student Participation
Increasing awareness of the journal was a major factor in its success. Without promotion, the journal would have failed. Early on, champions for the journal were identified who shared information throughout the campus by distributing flyers and posters and holding informational meetings for students interested in submitting their work.
Expanding Undergraduate Research at Community Colleges
Publishing an undergraduate research journal at AACC is a tangible representation of the quality work that community college students can produce. The published journal is a declaration that AACC's president and her leadership teams and trustees can share with community stakeholders to showcase the creative and innovative practices at the college.
The need for more research journals at community colleges has been well documented (Hewlett, 2018). Reasons for this include the increasing emphasis on scholarly research, growth of online resources, and rising demand for graduates with research skills.
The process of developing an undergraduate research journal was both challenging and rewarding. While there were no easy answers when it came to creating a successful journal, for any community college interested in using AACC's experience as a roadmap, the steps above can help ensure success.
References
Bauer, K. W., & Bennett, J. S. (2003). Alumni perceptions used to assess undergraduate research experience. Journal of Higher Education, 74(2), 210-230.
Hathaway, R. S., Nagda, B. A., & Gregerman, S. R. (2002). The relationship of undergraduate research participation to graduate and professional education pursuit: An empirical study. Journal of College Student Development, 43(5), 614-631.
Hewlett, J. A. (2018). Broadening Participation in Undergraduate Research Experiences (UREs): The Expanding Role of the Community College. CBE Life Sciences Education, 17(3). https://www.lifescied.org/doi/pdf/10.1187/cbe.17-11-0238
Kuh, G. D. (2008). High-impact educational practices: What they are, who has access to them, and why they matter. American Association of Colleges and Universities.
Nagda, B., Gregerman, S., Jonides, J., von Hippel, W., & Lerner, JS. (1998). Undergraduate student-faculty research partnerships affect student retention. Review of Higher Education, 22(1), 55-72. https://scholar.harvard.edu/files/jenniferlerner/files/1998_6.pdf
Lance Bowen is Dean, Science, Technology, and Education, at Anne Arundel Community College in Arnold, Maryland.
Opinions expressed in Learning Abstracts are those of the author(s) and do not necessarily reflect those of the League for Innovation in the Community College.