Arapahoe Community College: Innovative Educational Delivery Draws Panel to Sturm Collaboration Campus
March
2020
Member Spotlight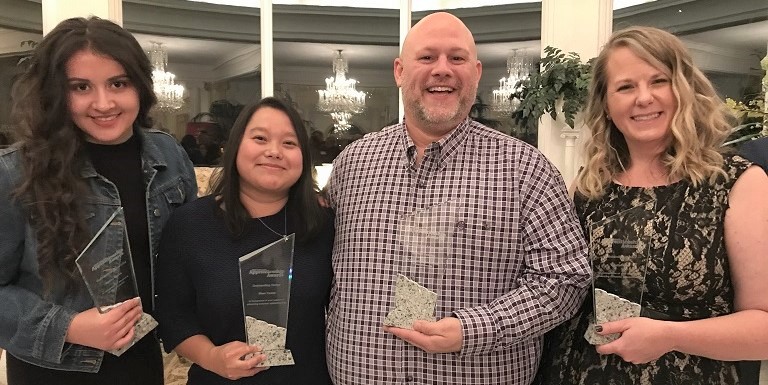 The Arapahoe Community College (ACC) Sturm Collaboration Campus hosted a panel discussion and facility tour with education, industry, government, and community leaders on January 21, 2020, in Castle Rock, Colorado, to showcase ACC's dynamic work-based learning programs and postsecondary certificates connecting industry and education. Apprenticeships in the fields of health care, manufacturing, and automotive service technology were highlighted, and several current and former ACC students were on hand to speak about their career-focused educational experience. Attendees included U.S. Department of Education Assistant Secretary for Career, Technical, and Adult Education Scott Stump; Colorado Department of Labor and Employment Executive Director Joe Barela; ACC President Dr. Diana M. Doyle; Castle Rock Economic Development Council President/CEO Frank Gray; and a host of state, regional, and national officials and executives. For Stump, the visit was one of several in his tour of similar schools across the country that are implementing innovative and unique models for educational delivery.
"Co-creating work-based learning opportunities across the lifelong learner continuum is a staple of ACC's Sturm Collaboration Campus," stated Dr. Eric Dunker, ACC Associate Vice President and Dean of Business, Technology, and Workforce Partnerships. "It was great to host Assistant Secretary Stump and leaders from industry, education, and local government to discuss how we can all collaborate to provide innovative educational delivery solutions across the talent pipeline ecosystem."
The Sturm Collaboration Campus is a joint venture between ACC, Town of Castle Rock, Castle Rock Economic Development Council, Colorado State University (CSU), and Douglas County School District. Current educational offerings include business and entrepreneurship, health care, cybersecurity and secure software, information technology/programming, general education, and workforce training. The campus brings together education, business, and the community to create a unique resource for delivering seamless education and workforce training to Castle Rock and greater Douglas County. CSU and Douglas County Schools are partnering with ACC to create a smooth pathway from high school diploma to associate's degree to bachelor's degree.
The Economic Development Council of Colorado (EDCC) named the Sturm Collaboration Campus as its 2018 Economic Development Partnership of the Year. The EDCC, which recognized the Sturm Collaboration Campus as a shining example of how collaborative economic development can work to build educational and workforce infrastructure for a community, is a statewide, nonprofit organization dedicated to successful, responsible economic development.
In November 2019, ACC alumni Joseph Lesniak and Melina Reyes received Outstanding Apprentice recognition from the Colorado Workforce Development Council at the annual Colorado Apprenticeship Awards at the Governor's Residence at Boettcher Mansion in Denver. Lesniak, who was featured by Denver7 in fall 2018, was a member of the first cohort of the ACC/Centura Health Medical Assistant Apprenticeship program. Reyes was a member of the second cohort in spring 2019. Additionally, ACC's Kristin Rice and Shao Yeung received Outstanding Mentor recognition. Rice has taught the classroom-based medical assistant training course for the ACC/Centura Health Medical Assistant Apprenticeship program since its inception in 2018. Yeung is the Work-Based Learning Program Manager in ACC's Workforce & Community Programs office.
"ACC is very excited to serve students, industry, and the community," said Dr. Doyle. "The Sturm Collaboration Campus is a dynamic model for workforce development and progressive educational delivery at all levels."
Jeff Duggan is Communications Coordinator at Arapahoe Community College in Castle Rock, Colorado.
Opinions expressed in Member Spotlight are those of the author(s) and do not necessarily reflect those of the League for Innovation in the Community College.