Calhoun Community College: Manufacturing Team Finishes Among Top Three at National Competition for Second Year in a Row
September
2022
Member Spotlight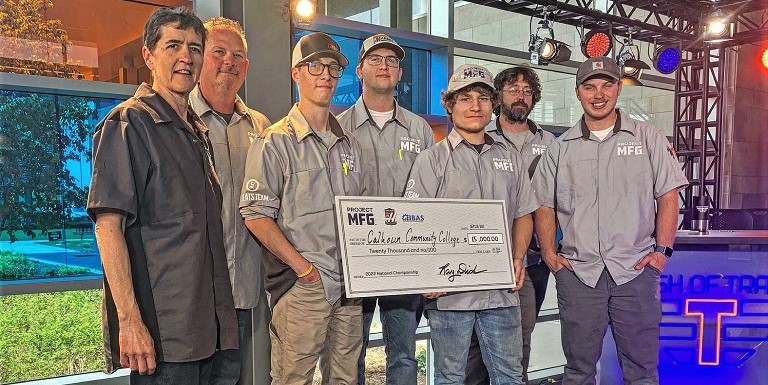 Competing with 32 teams across the U.S., Calhoun Community College's student manufacturing team placed second at the 2022 Project MFG National Championship in Wichita, Kansas. Project MFG shines a light on the need and opportunities for skilled trades by focusing on the development of new talent to provide a path forward for individuals and our country. Project MFG competitions throughout the U.S. promote the trades across industries and help advance the next generation of highly skilled trade professionals.
According to Tad Montgomery, Calhoun Machine Tool Technology instructor, the two-day integrated manufacturing competition tests the skill sets of students in welding, programming, and machining. "This is one of our most exciting competitions," said Montgomery. "Not only are our manufacturing students able to showcase what they learn daily through our course curriculum, but they are also gaining real-world experience when they compete on such a level with other students."
Each team is presented with a tight budget as well as a challenge to create a product that is built using required specifications. Just as in today's manufacturing industry, they are charged hourly rates against their budgets. "Competitions such as these are what sets Calhoun's manufacturing training apart from other institutions," commented John Holley, Calhoun Dean of Technologies. He continued,
We try our best to provide our students with as many real-world hands-on training opportunities as possible that will place them in situations to think and solve problems strategically. When we hear from area industry leaders, they tell us those are the skills desired in conjunction with our manufacturing training. 
Calhoun's team consisted of members who possessed skills in CNC 5-axis programming, welding, metrology, and CNC 5-axis machining. Those competencies were necessary as judges scored the projects based on programming and production time and tooling and material costs as well as overall quality. All machining components were inspected for dimensional size and geometric tolerances. The welding portion of the competition consisted of aluminum and steel tanks which had to withstand pressure testing along with adhering to a weld procedure standard.

Caleb Gullion (right) and Ross Treloar run a new program to manufacture
the required part on a Haas UMC 750 multi-axis machine.
Only four teams were chosen as national champions; Calhoun finished in second place, making it the team's second consecutive national championship win in this annual competition. The event was recorded and will be aired this fall, as was the previous year's competition, on Clash of Trades. "Calhoun's performance in Project MFG exemplifies the quality of training the college provides students in advanced manufacturing," said Montgomery. "The Department of Defense is working diligently to highlight these types of programs as well as the critical shortage for such skilled manufacturing workers desperately needed to drive our economy and produce the systems used to protect our nation," he added. 
Calhoun boasts close to 100 percent job placement for its manufacturing degree programs. Click here to learn more about Calhoun's technologies programs.
Lead image: Calhoun's student manufacturing team, left to right: Adele Ratcliff, Project MFG Sponsor Representative; Tad Montgomery, Team Sponsor; Barry McCall Atchison, Welder; Matt Jones, Welding SME; Ross Treloar, CNC Machinist; George Cassimus, Machining SME; and Caleb Gullion, CNC Programmer
Sherika Attipoe is the Assistant Director, Public Relations and Digital Media, at Calhoun Community College in Decatur, Alabama.
Opinions expressed in Member Spotlight are those of the author(s) and do not necessarily reflect those of the League for Innovation in the Community College.