Community College of Allegheny County: Respiratory Therapy Program Partners With Health Care Provider to Meet Urgent Demand
January
2022
Member Spotlight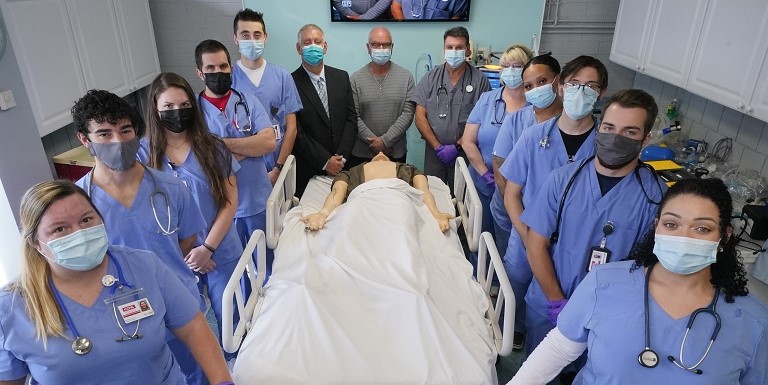 The Community College of Allegheny County's Respiratory Therapy Associate of Science Degree program continues to help meet the growing need for skilled therapists in the Pittsburgh, Pennsylvania, region and beyond. The demand for therapists is at an "all-time high" and the program is ideal for individuals who are seeking a rewarding career that offers 100 percent job placement, according to CCAC Professor and Program Director Richard Laurent. Local hospitals are expanding respiratory therapy services, and the first group of therapists in the relatively young field is nearing retirement age. The demand across the country is also high and is projected to continue to grow by 23 percent from 2020 to 2030, much faster than the average for all occupations (Bureau of Labor Statistics, n.d.). Additionally, since the onset of the pandemic, many therapists have pursued more lucrative positions as travel therapists in areas with high COVID-19 ICU admissions, Laurent said.
To help fill this critical shortage, CCAC's Respiratory Therapy program is teaming up with leading health care provider University of Pittsburgh Medical Center (UPMC) in a commitment to boost the number of skilled respiratory therapists in the region. Participants will have an opportunity to make a meaningful impact in the community while receiving tuition assistance of $6,000 as well as paid work opportunities while completing the program and a guaranteed job at UPMC upon graduation. This special section of the program will begin in January, and participants can complete their degree in 23 months.
"The job market for new graduates has never been better," said Laurent. "In Pittsburgh, the hospitals fight over our graduates. I tell all of my students, if they graduate, they will definitely have a good job, and probably at the hospital of their choice."

CCAC graduate and Registered Respiratory Therapist Trisha Loder
prepares for a pre-use check and circuit test on the Servo-n Neonatal
ventilator in the NICU at WakeMed Health in Raleigh, N.C.
CCAC and UPMC have developed numerous mutually beneficial partnerships over the years which include continuing education and workforce training for UPMC staff, clinical experiences at UPMC facilities for CCAC nursing and allied health students, and job placement for graduates. CCAC graduates typically secure jobs prior to graduation, with some receiving multiple offers after just a couple of weeks in clinical internships where employers can observe their work ethic. The median salary of a respiratory therapist is $62,810 (Bureau of Labor Statistics, n.d.), and graduates in the Pittsburgh region can expect a starting salary of around $50,000 with excellent benefits as well as a signing bonus of up to $8,000 at some local hospitals, according to Laurent.
Trisha Loder, who graduated in 2019, is one of many CCAC student success stories. "After completion of the respiratory program, I was able to obtain my Registered Respiratory Therapist credential and get an immediate full-time position at UPMC Magee Women's Hospital in the NICU specializing in the neonatal population," said Loder. She continued:
I have also acquired my Neonatal/Pediatric Specialty certification, and I'm now a traveling therapist and am currently working in the NICU at WakeMed Health in Raleigh, North Carolina. I am thankful for all the opportunities this career has brought me, and none of it would have been possible without the CCAC Respiratory Therapy program.
The CCAC program received a perfect score in 2020 from the Commission on Accreditation for Respiratory Care (CoARC), which is a repeat performance of the last time the program was accredited 10 years ago. Among the program's strengths, according to CoARC, are an "engaged, interactive medical director, a well-equipped program laboratory, dedicated competent faculty, enthusiastic students and graduates, and a wide array of diverse clinical affiliates."

Jason Trautman, professor and director of Clinical Education,
CCAC Respiratory Therapy program, demonstrates patient breath sounds
and the assessment of ventilation during mechanical ventilation
CCAC students also receive excellent hands-on training in a state-of-the-art lab that features mechanical ventilators and five interactive SimMan® simulators, which are anatomically correct mannequins used for teaching advanced life support skills. The students receive immediate responses from these "patients" based on their decisions. They are then able to view a video of their performance and learn from mistakes made in the lab, so when they get to the hospital or clinic, they are well prepared.
Reference
U.S. Bureau of Labor Statistics. (n.d.). Occupational outlook handbook: Respiratory therapists. https://www.bls.gov/ooh/healthcare/respiratory-therapists.htm
Lead image: Students and faculty in CCAC's Respiratory Therapy program gather around a patient simulator known as SimMan, which is used to train students in patient scenarios.
Margaret Anderson is a Promotions Writer, Public Relations and Marketing, at Community College of Allegheny County in Pittsburgh, Pennsylvania.
Opinions expressed in Member Spotlight are those of the author(s) and do not necessarily reflect those of the League for Innovation in the Community College.