Mesa Community College: Everyone Can Code Project
May
2018
Member Spotlight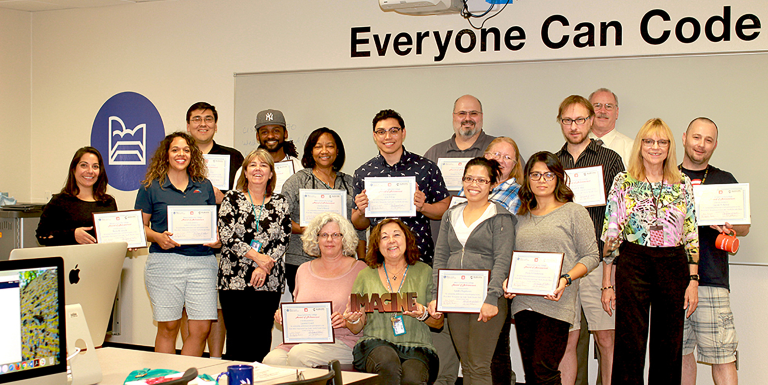 Mesa Community College (MCC) was the first college, among six in the nation, selected by Apple to launch the iOS app development project and the first to offer associated courses for academic credit. The college views the Everyone Can Code project as more than a collection of courses. This is a foundation for a successful future for a diverse body of students.
MCC faculty embrace the concept that the key to innovation is to provide something that is unusual, to test the norms, to do it in a timely and meaningful manner, and to embrace teaching excellence through diversity and differentiated learning. Faculty, administration, and staff collaborated on this innovative learning opportunity. It began with an idea, a genuine desire, and a clear commitment to student success. By providing students relevant and meaningful experiences that are exciting, engaging, and collaborative, we could quickly ready our students for gainful employment. In less than one year, 16 students will have completed all three courses in the project.
Women have long been underrepresented in information technology (IT) careers. The Everyone Can Code project is led by three female IT faculty: Drs. Linda Collins, Deb LaVergne, and Angeline Surber. Serving as role models, their leadership and contributions to this project encourage women and other underrepresented groups to pursue IT careers. Our classes are diverse in age, ethnicity, background, and gender.
The inclusive value of this program was highlighted as Univision's ¡Despierta America! showcased the MCC Everyone Can Code app development project to its American Spanish-language audience.
Reaching out to underrepresented youth, Chicanos Por La Causa Workforce Solutions presented the Everyone Can Code project via a Facebook Live Video. CPLC Workforce Solution focuses on paths to gainful employment and provides scholarship opportunities.
Innovative Approach to Teaching and Learning
The approach to offering this opportunity was designed by MCC faculty to provide students with real-life learning experiences, preparing them for positions in business, industry, and entrepreneurial opportunities. The classroom environment uses iMacs, iPads, Apple TV, Apple Pencils, robots, and other technologies for experimentation and exploration, providing students with tools to build marketable apps.
Students have been applying the MCC 4Cs in this program:
Communication with peers;
Critical thinking as they decide on applications and implement the;
Civic engagement by many, with proposed apps to benefit veterans, the homeless, the disabled, and persons challenged with autism and mental and physical illnesses; and
Cultural and global engagement such as proposed apps for language translations.

Students in the iOS App Lab
Students in the iOS App Lab
The iOS app development classroom was designed by MCC faculty to employ smart- and soft-space solutions. The smart space features desks and chairs repurposed from college surplus, ambient lighting, color effects on the walls, side-by-side classroom seating, and multi-quadrant work areas. The soft space provides a sofa, coffee table, comfortable chairs, and access to beverages and snacks, emulating spaces in business for collaboration, group learning, and project building.
Students learn to work in teams while discovering concepts, creating products, and developing strategies for business. Coursework goes beyond the technology. Students are introduced to storyboarding, marketing, and small business potentials for their talents. Industry experts, including Apple executives, share effective business strategies and insights with students.
Everyone Can Code students can apply for the Green Flag Mesa entrepreneurial initiative, a partnership between the college and the City of Mesa Chamber of Commerce. Qualifying MCC students are provided a fully equipped office space and access to the mentoring, business knowledge, seminars, and networking opportunities provided by Chamber members for a nominal fee.
Careers and the Job Market
Also innovative was MCC's rapid response to the need for app developers. There are more than 10,000 job openings in Maricopa County alone for software and application developers according to EMSL Burning Glass. Thousands more positions are available nationwide and these positions offer lucrative salaries; the median wage in Arizona is $90,330.00 annually according to CareerOneStop.
Outreach: Bringing the Project to Students and the Community
Everyone Can Code information is continually presented to new groups, high school students, community members, and businesses as well as college faculty (both within Arizona and elsewhere).
This summer, for the first time, MCC is offering a Kids App Camp. Students in the sixth through eighth grades will create apps, program BB8 and Sphero robots, and find out how to submit an app to the iTunes App Store. This camp is fun preparation for app classes in high school and at MCC as well as an opportunity for young students to explore careers in IT.
Linda Collins is chair of Business and Information Systems at Mesa Community College in Mesa, Arizona.
Opinions expressed in Member Spotlight are those of the author(s) and do not necessarily reflect those of the League for Innovation in the Community College.